IRIScan Desk 6 Pro Dyslexic
Simplify learning, improve their skills
A Unique and Precious Tool for People with Dyslexia
People with dyslexia face several challenges, from their school days, in society, and at work. This condition affects one's ability to read, talk, spell and remember phrases. These problems can also affect their self-esteem and confidence. For 35 years, IRIS has been an industry leader in developing innovative technologies to empower people and organizations.
We are happy to announce our new software, Readiris Dyslexic, which makes life easier for children and adults with dyslexia
A Unique and Precious Tool for People with Dyslexia
Reading Made Easy with Dyslexic Software
• Simple, user-friendly and intuitive user interface for people with dyslexia
• Read aloud all types of books, documents and digital files
• Zoom in/out in the text for better readability
• Read aloud the entire sentence or repeated words, as desired
• Playback adapted to your pace (faster or slower), depending on the settings you configure
• Compatible with MS text-to-speech language
• Recognition of 138 languages
• Wide choice of simple output formats (DOCX – JPEG – MP3 – WAV – PDF) and direct sending by e-mail
• Comes with the award-winning IRIScan Desk 6 scanner to scan books and documents up to A3/Ledger size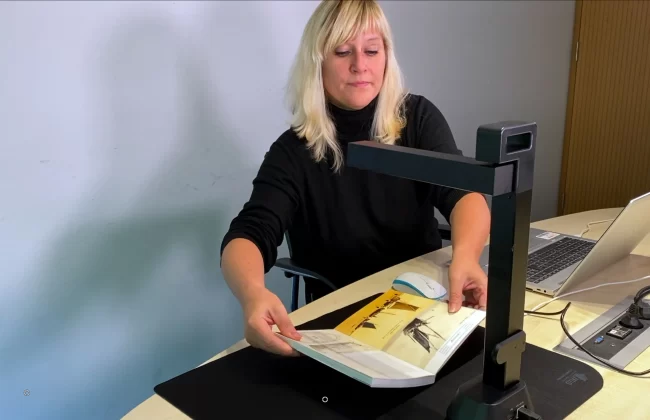 Step 1
Connect the scanner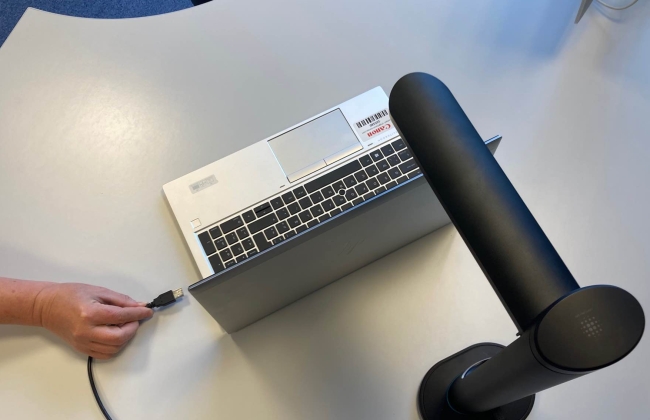 Step 2
Launch the scanner functionality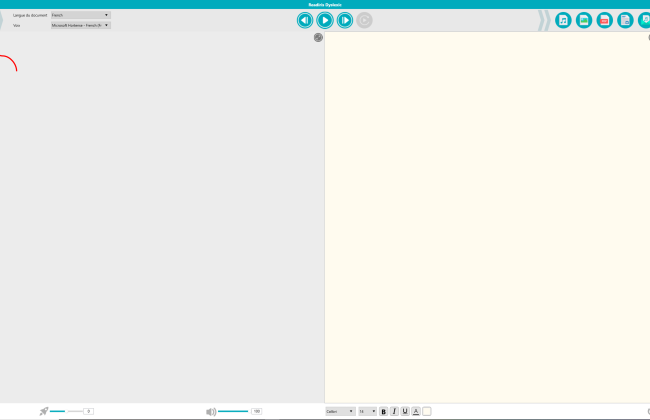 Step 3
Place the book or document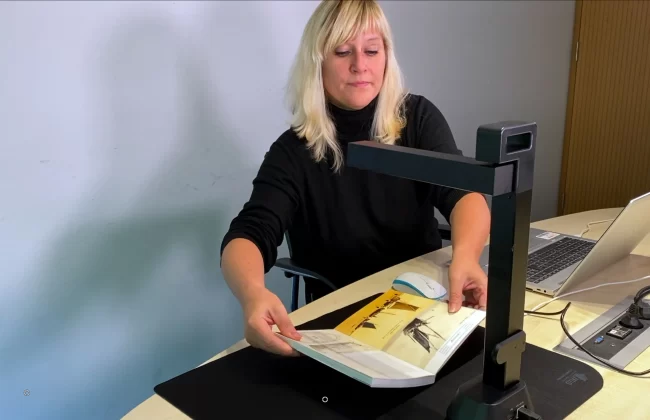 Step 4
Export the scan or import your file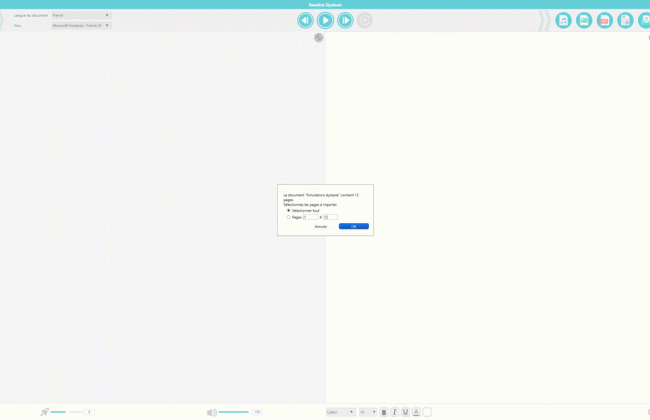 Step 5
The text is now editable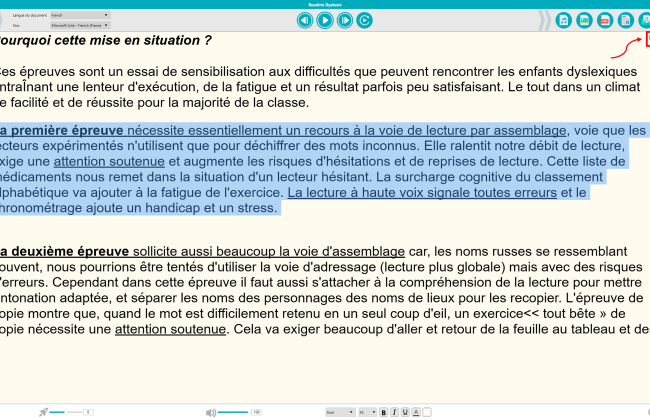 Step 6
Choose the right document language & voice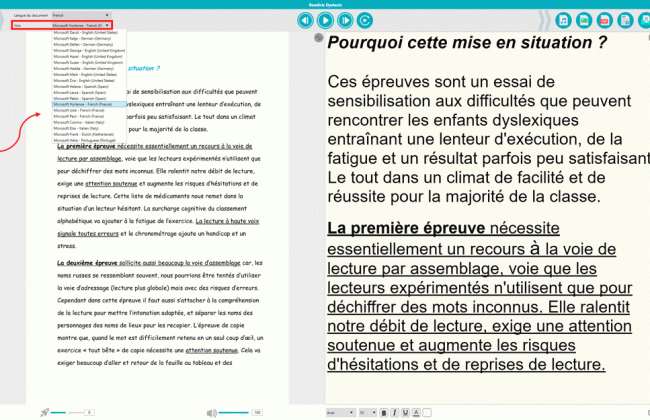 Step 7
Change font, size, background color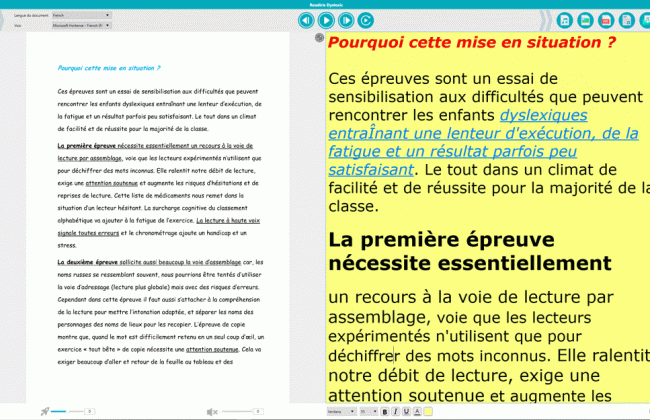 Step 8
Choose the most suitable dictation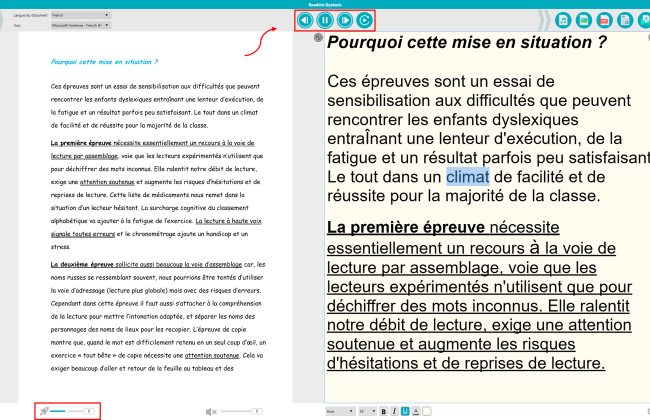 Step 9
Launch the scanner for remote learning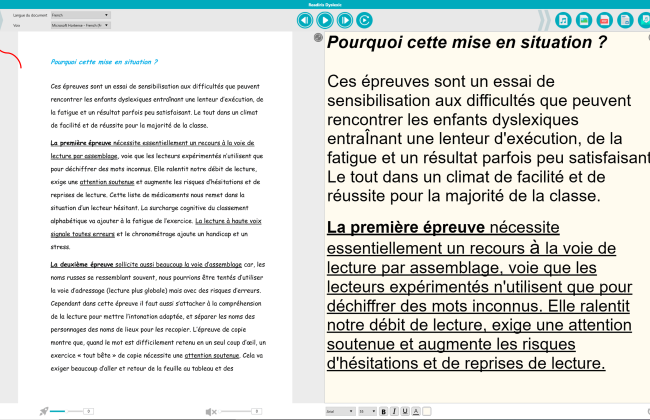 Step 10
Turn on your cameras and start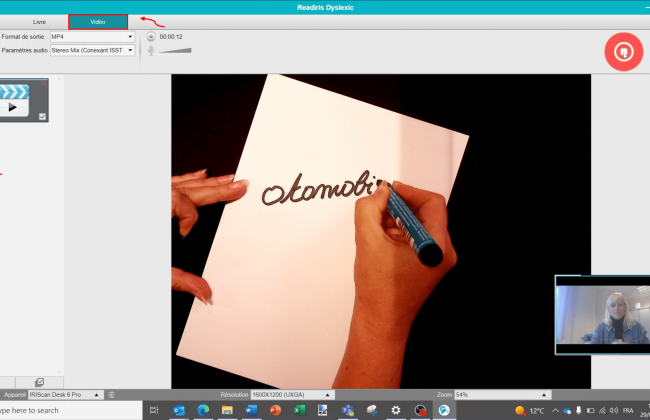 What Does Readiris Dyslexic Do?
Readiris Dyslexic presents a new dawn for those struggling with dyslexic conditions, including dyspraxia, dysphasia, dysgraphia, as well as dysorthography.
It reduces fatigue by making daily assignments such as reading and writing easier to manage. With this tool, dyslexic people can have a more pleasurable learning experience.
At IRIS, We collaborate with experts, therapists, and people living with these conditions to ensure the tools serve their purpose. With an inside eye from experts who face these challenges every day, Readiris Dyslexic is a unique and precious tool you can use to self-train or share with friends, family, and therapists.
"This is an amazing tool. Finally, an easy tool that can help us teach and help our patients train themselves and practice the exercises we propose to them, even remotely"- Dyslexia experts' feedback
Compare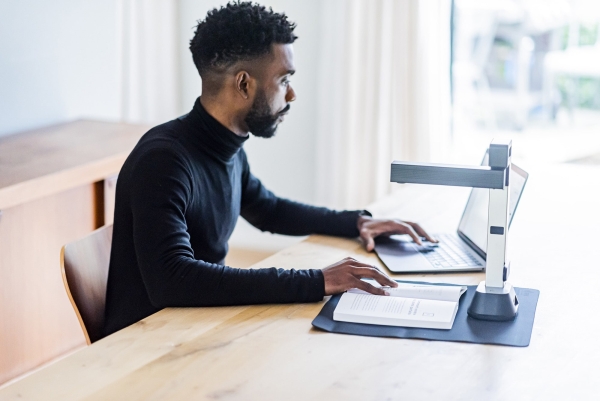 Help dyslexic people to improve
their reading disability
IRIScan™ Desk 6 is the ideal reading aid for dyslexic people. Thanks to the unique Text To Speech technology. It will read aloud any document (Microsoft Word, PDF, text files, web pages, or scanned documents) word by word!
It allows you to read and listen in parallel word by word to any document. As such this tool is ideal for language work and any other work requiring extensive reading use.
Discover all features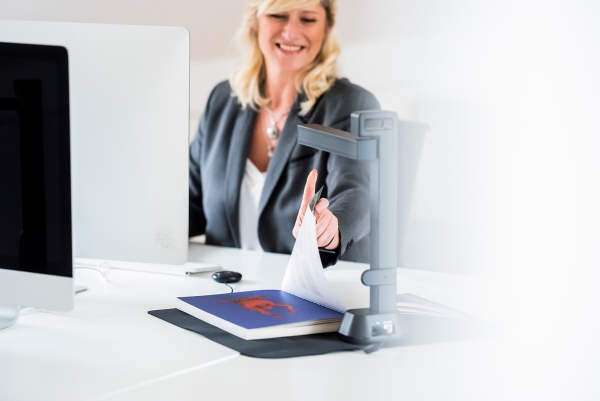 How Does it Work?
Readiris Dyslexic comes together with IRIScan Desk 6 Pro Dyslexic. This lets you record the training sessions for later reference and exchange live with your teacher while watering down the troubles of dyslexia.
With our solution, you can prepare based on any support, including magazines, books, newspapers, as well as digital files on your PC or the web. The straightforward user interface lets you get started quickly and guides you through a side-by-side presentation of the original and extracted text. The presentation makes it easy to edit the text you are reading and export the file as an image (JPEG), audio (MP3/WAV), PDF, or Docx.
The tool is suitable for everyone, from children to adults. You can read any document aloud by a single word, phrase, or whole sentence. You can set the tool to read faster or slower as you please or repeat the comments until you correct the spelling and pronunciation.
Furthermore, this tool is self-reliant, where you can train yourself without the help of a teacher, family member, or trainer.
More information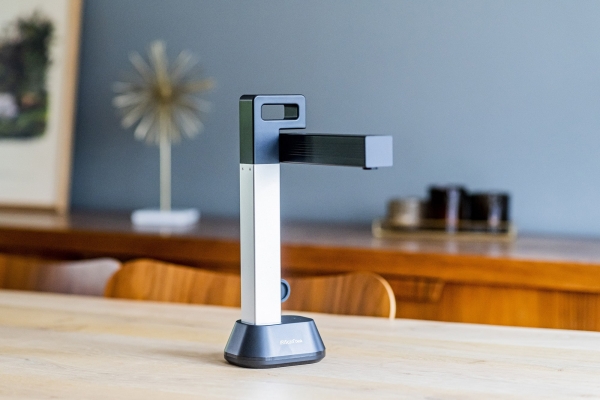 Conclusion
Dyslexic thinking has been recognized as a desirable skill in leadership, creativity, and business process.
LinkedIn added #dyslexicthinking to the skills list to remove the stigma around dyslexia. At IRIS, we are giving dyslexic people hope and the opportunity to better their lives through this solution.
Our digital tools aim to build independence in dyslexic individuals and make life easier. IRIScan Desk Pro 6 Dyslexic is one tool that allows you to compensate for the various learning challenges associated with dyslexia.
Such solution help dyslexic kids manage their school assignments such as reading, writing, and comprehension. Adults also benefit by getting assistance in reading blogs, newspapers, books, or writing emails.
Purchase now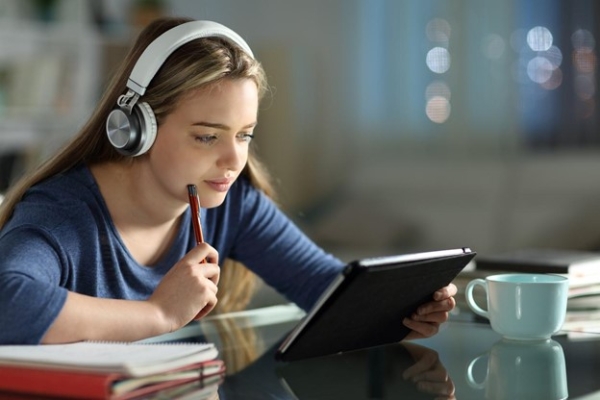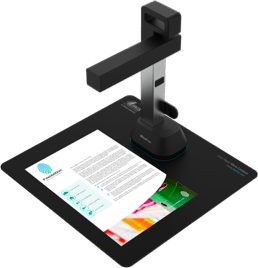 IRIScan™ Desk 6 is a versatile document scanner and a support for distance learning sessions. Ideal for Small Office and Home Office.
Buy now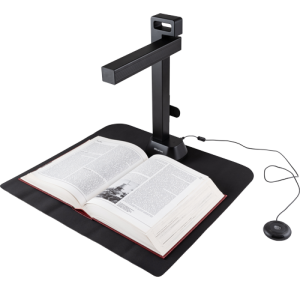 IRIScan™ Desk 6 is a professional versatile document scanner and a support for distance learning sessions. Ideal for SMB's, Academic, Logistics, Dyslexics, Real Estate, Healthcare, Insurance & Finance.
buy now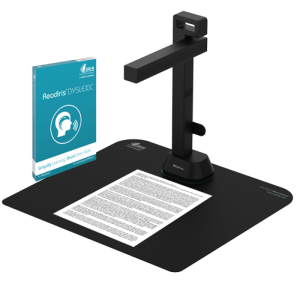 IRIScan™ Desk 6 Pro Dyslexic is the all-in-one solution dedicated to people with dyslexia disorder. Ideal companion to help with reading, writing and spelling thanks to the dedicated Readiris Dyslexic application
Buy now
Témoignages

Self-employed occupational
Therapist

AstucepourDYS
Mother of DYS child
IRIScan Desk 6 - Resources
Get started - demo and tutorial
Get started with IRIScan Desk 6 Dyslexic
Book scanning - How to scan a book ?
Find out how to scan a book with IRIScan Desk.
Advanced use & TTS - How to use the Text to Speech feature ?
Discover how to use the Text to Speech feature.
Book scanning - How to scan with the shutter button ?
Thanks to its trigger button, IRIScan Desk lets you scan documents without using your keyboard or mouse.
Book scanning - How to scan the Front and back of the book ?
Find out how to scan the front and back pages of a book.
Video recording - How to use the video mode ?
Discover how to film videos with your IRIScan Desk
Video recording - How to configure Remote conferencing ?
Discover how to configure Remote conferencing.
Card scanning - How to scan business cards and export to Cardiris ?
Scan your business cards using IRIScan Desk and export them to multiple formats using Cardiris.
IRIScan Desk 6 Pro
Scanning technology: 13-Megapixel CMOS Sensor – 21 MB extrapolated
Max resolution: 4160 x 3120 pixels (13MP)
Max document size: 420 x 297 mm (A3) or 16.5 x 11.6 in.
Scanning speed: Less than 1 second scan per A3 page in color mode
Lens fixed focus
Video Record Resolution: 2048 x 1536 (3 MP) / 1920 x 1080 (Full HD 1080) / 1600 x 1200 (UXGA) / 1280×960 (960P)
Built-in LED Lights 4 pcs
Output resolution 300 DPI
Output level Color / Black & White / Grayscale
Interface/drivers USB 2.0 Type B x 1 (For PC Connection)
USB 2.0 Type-A x 1 (For USB Extension)
Power supply 5V by USB powered
Power supply 5V by USB powered
Output formats Document: JPG, PDF (Image), PDF (Searchable), PDF (Text), Word, Txt, Excel, EPUB (E-book), MP3, WAV.
Daily scanning volume: up to 5000 pages.
IRIScan Desk 6 – IRIScan Desk 6 Pro – IRIScan Desk 6 Business
Windows® 10 with Intel i3 or higher
Mac® OS 10.15 and above with Intel chip or M1 chip
Graphical Card: Intel® Standard Graphics or higher Graphics cards with 2 GB VRAM
Ram memory: 4 GB
Hard disk space: 2 GB
One USB 2.0 or above
IRIScan Desk 6 Pro
Camera Scanner
USB cable
ScanPad
Getting started guide
External USB capture button
Product name: IRIScan Desk 6 Pro
SKU: 462006
Box Size: (H x L x D) 13 x 49 x 15 cm / 5.1 x 19.3 x 5.9 in.
Box Weight: around 1.47 kg / 3.24 lbs
Folded size: 396 x 120 x 90 mm / (15.5 x 4.72 x 3.54 In.)
Working size (H x L x D): 396 x 120 x 282 mm / (15.5 x 4.72 x 11.1 In.)
Weight : 1.15kg / 2.53 lbs